Villeroy & Boch
275 Years Creating Homes
Discover Villeroy & Boch's Exquisite Bathroom Designs at Cambridgeshire Bathrooms
Step into the world of elegance and refinement with Villeroy & Boch, showcased in all its glory at Cambridgeshire Bathrooms' showrooms in St Ives and Sawston. Renowned for its remarkable quality and innovative design, Villeroy & Boch offers a comprehensive range of bathroom and wellness products, transforming your bathroom into a sanctuary of relaxation and personal well-being. The fusion of functionality with luxury makes this brand a favourite amongst those who seek excellence in their bathroom spaces.
Experience Villeroy & Boch's Bathroom Excellence
A leader in the global bathrooms marketplace, Villeroy & Boch's assortment encompasses everything you need for a full bathroom suite. Whether you're looking for state-of-the-art bathroom taps, luxurious ceramics, sophisticated bathroom furniture, plush textiles, or distinctive accessories, the brand caters to every desire.
Stylish Ceramics for Modern Living: Villeroy & Boch's ceramic collections bring together high-quality materials and innovative designs. The brand's commitment to excellence is evident in the sleek lines of their washbasins, toilets, and bidets. These pieces are not only aesthetically pleasing but also incorporate cutting-edge features such as water-saving functions and easy-clean technology, affirming that luxury can coexist with sustainability.
Bathroom Furniture that Marries Functionality and Aesthetics: Experience a seamless blend of utility and style with Villeroy & Boch's bathroom furniture. From minimalist vanity units to elegant wall cabinets and shelving solutions, these pieces promise to elevate the visual appeal of your bathroom while offering practical storage solutions, ensuring that every product serves a purpose beyond just beauty.
Sophisticated Bathroom Taps and Fittings: A testament to the brand's innovative spirit, Villeroy & Boch's range of taps and fittings combines precision engineering with elegant designs. Created to enhance user comfort and convenience, these fittings make water usage a luxurious experience while contributing positively to environmental conservation through their water-saving features.
Luxurious Textiles and Accessories: Complete your bathroom's look with plush textiles and unique accessories from Villeroy & Boch. Whether you're in search of soft towels, bathrobes, or stylish elements that add a touch of sophistication, these products assure your bathroom remains a harmonious haven of luxury.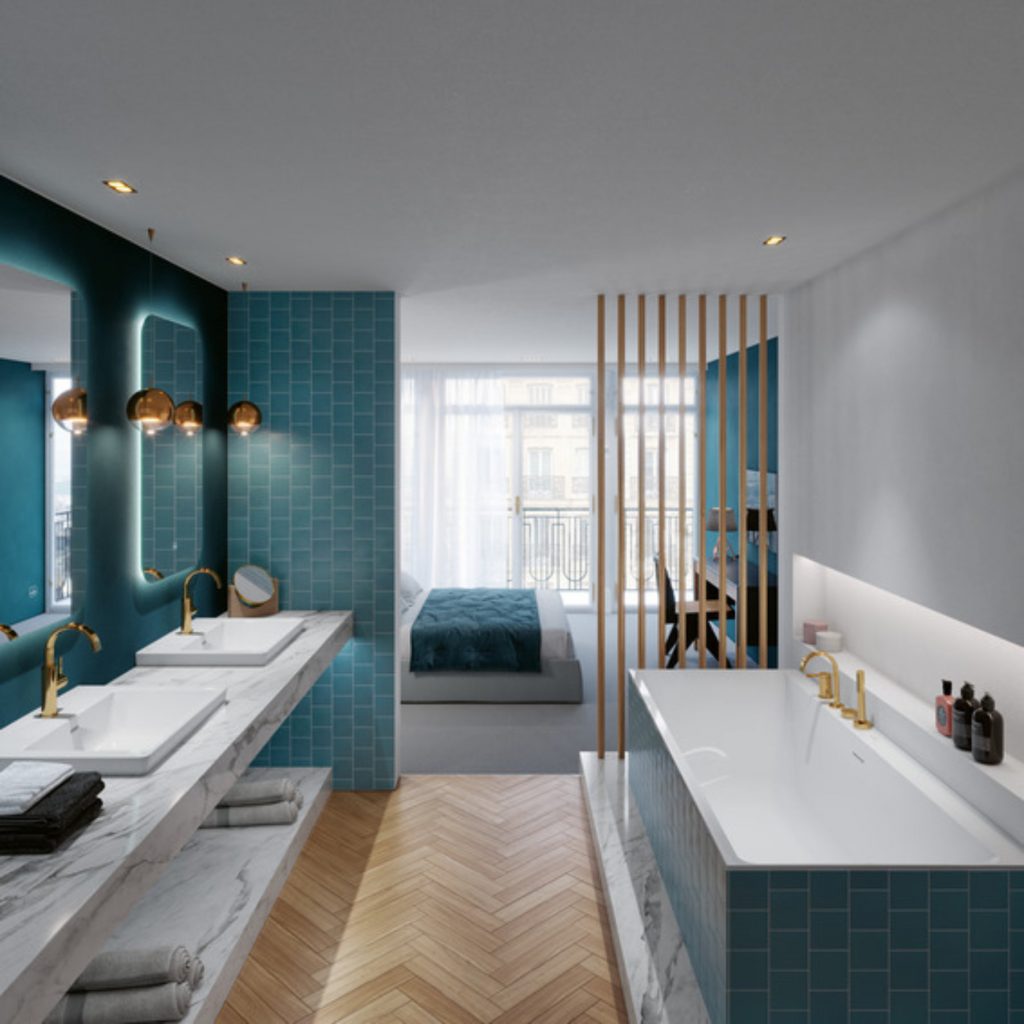 Inspired Bathroom Design with Environmental Consciousness
With a heritage spanning over 270 years, Villeroy & Boch has firmly entrenched itself as a brand synonymous with quality, innovation, and style. Moreover, their dedication to environmental conservation is evident in their range of products designed to save water and reduce energy consumption. By choosing Villeroy & Boch, you're not just enhancing your home with timeless design and enduring quality, but you're also making a responsible choice for the planet.
Plan Your Dream Bathroom
Understanding that bathroom design is a deeply personal journey, Villeroy & Boch offers an intuitive Bathroom Planner tool. This online platform allows you to visualize your space, adjust layouts, and select from various styles and products. Whether you favour a contemporary, minimalist aesthetic or a more traditional, opulent style, the Bathroom Planner helps you craft a space that reflects your personality and lifestyle needs.
Visit Our Showrooms in St Ives and Sawston
We invite you to experience the exquisite range of Villeroy & Boch products at our Cambridgeshire Bathrooms showrooms located in St Ives and Sawston. Here, you can immerse yourself in inspirational settings, interact with the products, and appreciate the craftsmanship and quality synonymous with the brand. Our expert team is on-hand to provide guidance, from initial concept discussions to detailed bathroom planning and design, ensuring your visions come to life in the most beautiful and functional way.
Villeroy & Boch is more than just a bathroom brand; it's a lifestyle statement. By integrating innovative design, environmental responsibility, and personal well-being, their products elevate daily routines into rituals you look forward to. Discover the transformative power of a Villeroy & Boch bathroom through Cambridgeshire Bathrooms and step into a world where quality, luxury, and wellness converge. Your journey to a bespoke bathroom experience starts here.