Basins
Discover Your Ideal Bathroom Basin With Cambridgeshire Bathrooms: Embodying Functionality and Style
The Essence of Basins For Your Bathroom Needs
In the realm of bathroom design, the humble basin often takes centre stage. It's not just a practical feature – with the right design, a basin can serve as the cornerstone of your bathroom's aesthetic, merging functionality with sophistication.
At Cambridgeshire Bathrooms, we're not just about providing your bathroom with a place to wash your hands or brush your teeth. We're about enriching your bathroom space with a basin that enhances your design scheme, complements your lifestyle, and represents your personal sense of style!
A Guide to Basin Design Considerations
Working with our expert bathroom designers in beginning to explore basin options, an essential starting point is always to consider the size of your bathroom. A smaller bathroom space might benefit from the streamlined simplicity of a wall-hung basin, while a larger space could accommodate a luxurious vanity basin.
We will also consider the overall aesthetic of your bathroom. Are you leaning towards a more traditional or modern bathroom design? Your choice of basin can significantly contribute to this aesthetic, with pedestal basins often lending themselves to traditional styles, and wall-hung or countertop basins embodying a more modern design language.
Finally, think about the practical elements. Do you need additional bathroom storage? Do you prefer a minimalist approach with hidden pipework, or do you favour a more open design? Your basin choice can fulfil these practical considerations while still effecting a stylish focal point: –
Wall-Hung Basins: Innovative Space Savers. Ideal for bathrooms where space is at a premium, wall-hung basins provide a compact, modern solution. Mounted directly onto the wall, they create an illusion of spaciousness, with no pedestal to interrupt the room's flow. This style is incredibly versatile, offering traditional to modern square designs.
Worktop Basins: Personalised Design Excellence. Worktop basins can be placed on a vanity unit or floating shelf, making them ideal for design-focused spaces. You can select your preferred colour and shape, customising your basin to perfectly align with your vision. This basin style provides additional storage, especially when paired with a vanity, striking a balance between aesthetic appeal and practicality.
Inset Basins: Luxury with Abundant Counter Space. Inset basins, often found in kitchens, have found their way into bathroom design. Lowered into a flat surface, these basins provide generous counter space for your toiletries, with pipework hidden within an under-counter vanity for a sleek, luxurious appearance.
Closet Basins: Compact without Compromise. Perfect for smaller bathrooms where storage is essential, closet basins are mounted atop a vanity unit, presenting a seamless, space-saving solution. They might be among the smallest basins available, but their design choices are plentiful, ensuring you don't need to compromise on style.
Vanity Basins: Luxury Meets Functionality. A vanity basin is an excellent luxury option that brings storage and style into one unified design. Boasting spacious basins, these units allow you to hide away products neatly, keeping your bathroom tidy and clutter-free. They create a five-star hotel look while ensuring any pipework is hidden, and are available in a wide variety of sizes and styles to suit your design preference.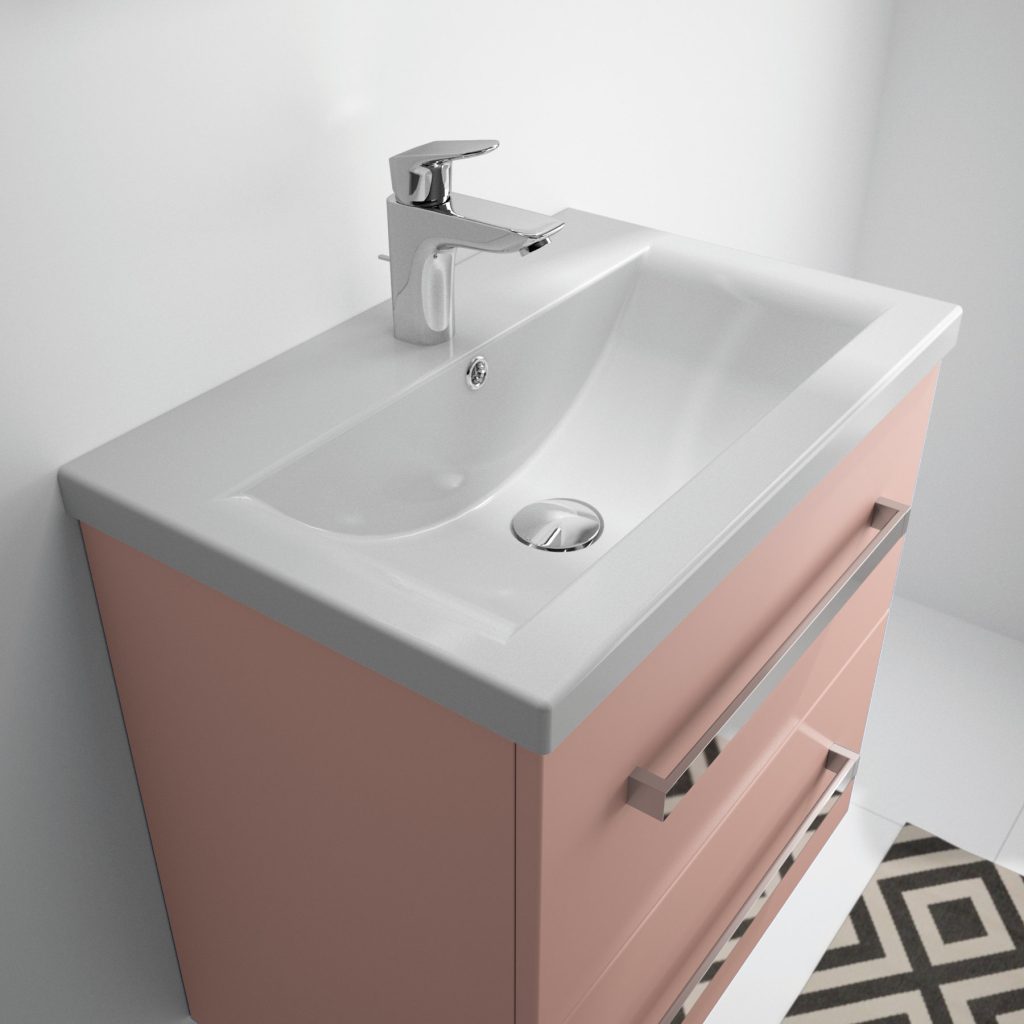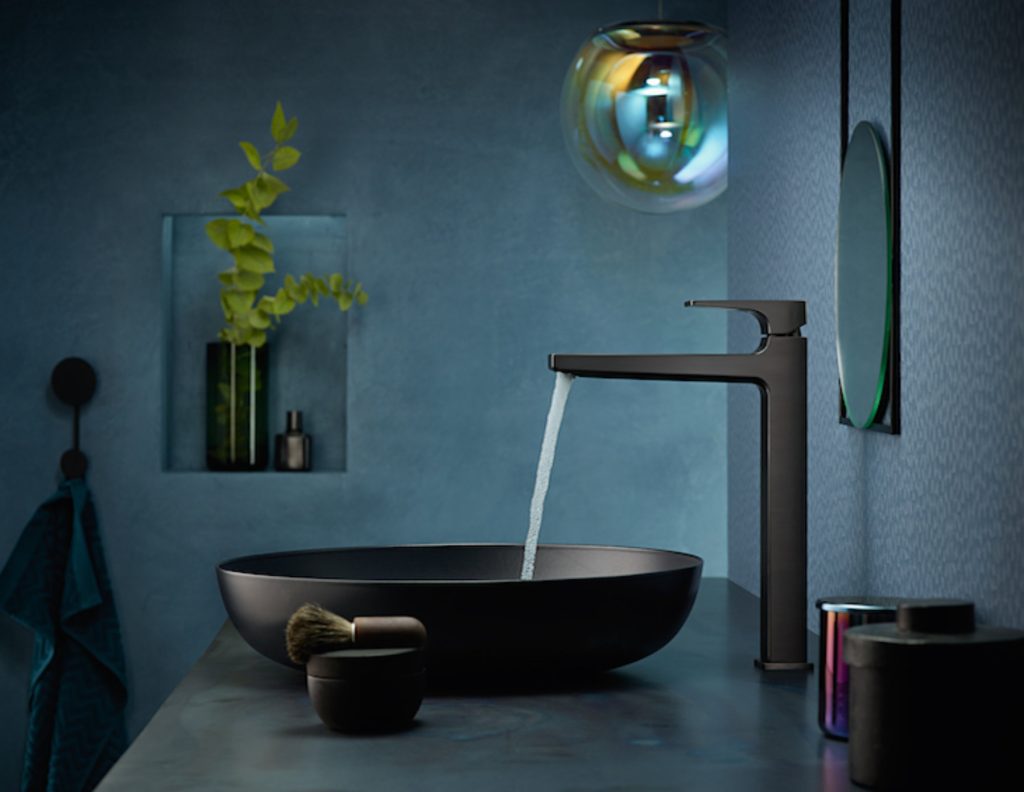 Colourful Expressions: Basin Colours for Every Bathroom, Aesthetic
Colour is a critical consideration for your bathroom basin, with choices that can set the tone for your entire bathroom space. From serene whites to robust blacks, soft greys to bold colours, at Cambridgeshire Bathrooms we have a spectrum of basin colour options. Whether you're seeking to create a harmonious, monochrome effect or to add a splash of colour with your basin, we can accommodate your preference.
Transformative Features: Tap into Your Basin's Potential
Once you have chosen the perfect basin for your bathroom space, we can consider additional features to enhance its functionality and aesthetic. Taps, for instance, are not just functional fixtures; they can be style statements in their own right. From modern mixer taps to traditional pillar taps, our selection of brassware can complement your basin choice and contribute to the overall aesthetic of your bathroom.
Similarly, waste options such as click-clack wastes, flip-top wastes, and traditional plug-and-chain wastes can impact the look and usability of your basin. Our Cambridgeshire Bathrooms bathroom designers can guide you in making the right choice for your needs as well as the look you wish to achieve.
Unparalleled Quality: The Cambridgeshire Bathrooms Commitment
At Cambridgeshire Bathrooms, we are dedicated to offering our customers exceptional quality, not just in terms of aesthetics but also in longevity and durability. All our basins are crafted from high-quality materials and designed to withstand everyday use while retaining their beauty long-term.
Our basin selection combines traditional craftsmanship with modern design principles, ensuring that regardless of the style or size of your bathroom, you will find a basin that matches your needs, suits your taste, and adds that touch of distinction to your space.
Discover Your Perfect Basin with Cambridgeshire Bathrooms
Whether you seek the sophistication of a pedestal basin, the contemporary edge of a wall-hung model, the luxury of a vanity basin, or the compact efficiency of a closet basin, Cambridgeshire Bathrooms has a solution for every bathroom, and every taste.